Alison Krauss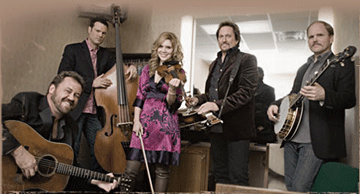 Dan Tymnski, Barry Bales, Alison Krauss,Jerry Douglas and Ron Block
Recent terrible news of disasters in all parts of the world have brought out the best in many who are reaching out to help. From Alison Krauss and Union Station to The Dalai Lama, those who are in a position to rally others are doing what they can to inspire the rest of us.
Alison Krauss and Union Station performed to benefit Compassion's disaster relief fund for Haiti at the Ryman Auditorium in Nashville, TN. Along with an allstar cast, the event streamed live on HelpHaitiLive.com, allowing people to give at a distance. The event on February 27th, 2010 took place physically in two cities - in Nashville and in LA at the Wiltern. The LA show headliner was Amy Grant.
---

...from an earlier interview in 2001 © by David Elliott, 2001
Alison Krauss
Alison Krauss was coming to town October 23rd 2001, at the Wiltern Theater in LA. Playing along with her was Union Station. Kenny Loggins once told me that when he heard Alison sing that she has one of the finest and purest voices in music. I agree.
I've heard it said that the greater the person the more truly humble they really are. Just for starters on her list of 'greats' she has released eight records on Rounder Records, one released in 1997 (called So Long So Wrong) which certified Gold, and one (titled Now that I've Found you has certified double Platinum (two Million in sales). Alison has been playing the violin from an early age and has worked with Yo Yo Ma and Edgar Meyer, Kenny Rogers, Vince Gill, and Allan Jackson to name a few. She's won CMA's Female Vocalist of the Year and Horizon Awards, and ten Grammy Awards. Yet with all of her awesome skill playing the violin, singing, and producing records, I find her to be self-effacing and unpretentious. Alison and I had the chance to speak beforehand, and here is a portion of our conversation.
David: Why do you think that Bluegrass music is so popular right now, Alison?
Alison: Why, I think that the movie Oh Brother Where Art Thou? was just so great. I don't know how it could have been introduced any better to people who haven't heard it, It was the best thing to happen to this music since Deliverance.
David: From what I understand it one of the people from Union Station, Dan Tyminski is doing George Clooney's singing part, and a fine job he did!
Alison: Yeah!
David: I just recently got another movie by the Coen Brothers of a concert at Ryman Auditorium with you and Emmy Lou, and Dr Ralph Stanley and so on. It seems the buzz is building behind you! When you choose material, how do you choose it?
Alison: If it makes me feel something. There are some tunes, like New Favorite…when we would rehearse it I couldn't even make it through the second verse. To find something like that somebody writes that moves you that much, and you know you're not always that lucky…It's just great. To think that I'm going to get to sing something for the next few years that really can move me. There's a lot of tunes that we still do in the show right now that still make me feel that way.
David: I know your musical influences growing up were bluegrass, and country, but also you listened to the music of Bad Company.
Alison: Yeah. That moves me too – in another way… there are different types of music – like body-oriented music, like funk. It moves your body. It makes you feel physically. Then there are other types of music that break your heart. And other ones that make you ponder.
David: When you arrange a traditional Bluegrass song, what's the process.
Alison: When you find the right tune, one that will move you and fit your voice it becomes a pretty obvious arrangement. It just kind of happens. Sometimes I'll just sit by myself and just think about it for a while. Everything for me is where it takes you, emotionally, depending on what starts the tune – where that back-up comes in – say the mandolin is backing the verse. Where that mandolin comes in will influence what word sticks out in the line. It can be tedious, but I think in the end it's worth it, because you'll have it on a record. It's going to continue to make you feel a certain way. Just like all my favorite records - if I put them on and hadn't heard them for ten years I feel what I used to feel when I listened ten years ago. It has a real mood that makes you remember those times. I hope that our records can create something like that.
David: How long have you played with Dan Tyminski now?
Alison: Trying to figure it out – I think it's seven or eight.
David: Certainly from a fan's point of view I hope it goes on.
Alison: Oh- Me too!
David: Does he have any plans to do a solo record?
Alison: He already has one.
David: Right now? What label?
Alison: It's on Doo-bee-shay Records.
David: Are you selling it at your shows?
Alison: Yes.
David: Good to know. What were your contributions to the soundtrack of Oh Brother Where Art Thou?
Alison: I sung an acapella song with the choir, during the baptism scene, and with Gillian, on I'll Fly Away.
David: You'll be coming to Los Angeles at the Wiltern Theatre with Union Station on the 23rd of October, right?
Alison: Yes!
David: It'll be great to see you!