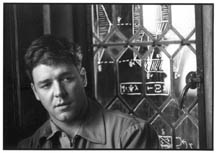 Russell Crowe in:
A BEAUTIFUL MIND
Akiva Goldsman, the Oscar Winning Screenwriter of A BEAUTIFUL MIND said that his mother taught what this movie is about... "that it is a good thing to have a beautiful mind but what a better gift it is to have a beautiful heart". A winner of four Academy Awards: for Best Picture, Best Director, Best Supporting Actress and Best Adapted Screenplay, this movie is an incredible mystery that reaches into the realm of reality vs. delusion. Based on the true story of the young Mathematician John Nash (who later won the Nobel Prize), it takes place in the 50's just after America showed it could develop the atomic bomb. Excitement and inspiring drama develops as a beautiful heart helps John to overcome his severe mental illness. This movie is a great film masterfully directed by Ron Howard. Starring Russell Crowe, Jennifer Connelly, Ed Harris, and Christopher Plummer. From Universal Home Video, Rated PG -13
Haley Jo Osment and Jude Law, in A.I.
A.I.
A.I. (Artificial Intelligence) is an astonishingly spiritual and human love story. Originally the legendary Stanley Kubrick was going to produce this film. However, in pre-production he died, and his friend Steven Spielberg, (another legend in my opinion) took the production notes and completed the script. He hired Haley Joel Osment as his first and best choice for the character of David in the film, also starring Jude Law. John Williams was hired to write the music, which really heightens the dramatic and emotional appeal. This movie is highly theological in its intent, dealing with such questions as: Is friendship more important than function? There is a little bit of the Pinocchio fable in it, which gives Mr. Spielberg's writing and direction an emotional punch and an ending that will surprise you. From Dreamworks Home Video, Rated PG 13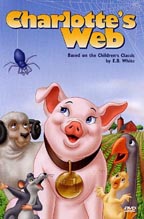 CHARLOTTE'S WEB
The original CHARLOTTE'S WEB is available on home video and DVD from Paramount Pictures. This enchanting animated adaptation of the classic children's story, (written by E.B. White) is an exceptional motion picture for the entire family. Featuring the voice talents of Debbie Reynolds (as Charlotte), Henry Gibson (as Wilbur), Agnes Moorehead (as the goose) and Paul Lynde (as Templeton the Rat) and music by Robert and Richard Sherman. This film works for me on all levels. In addition to the great animation it is chock full of the values of friendship, compassion and the will to help others. Because it is so well structured and the characters well developed, you care about all the characters in the film. Rated G
SOLOMON AND GAYNOR, on Columbia Tristar Home Video, is a classsic tale of star-crossed lovers. There are three languages spoken in the film: Yiddish, Welsh, and English. Set in 1911 Wales the story involves a door to door salesman, Solomon selling linen, who falls in love with Gaynor, but because he is ashamed of his religious heritage, hides it from his love. She is the daughter of a strict religious family. In this beautifully told story religious and social prejudice place the two lovers in a tragic crossfire equaling Shakespeare's Romeo and Juliet. These characters tug at your heart. A riveting love story, this movie has been nominated for an Academy Award Rated R.