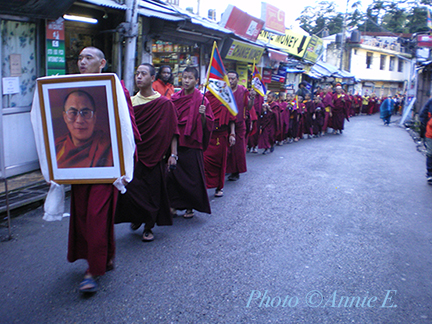 Peaceful Candlelight Protest by Annie E.
Back in August 13, 2008, early 1,000 Tibetans and tourists gathered to walk through the town of Mcleodgaji, as they followed the monks, proudly holding up a portrait of his holiness, the Dalai Lama. This peaceful protest started in the main bazaar, finally ending at the Namgyal Monastery.
The large group began to sing the Tibetan national anthem and Remember the 10th of March, about the massacre of thousands Tibetans in Lhasa.
Following these songs was a presentation of Leaving Fear Behind, a documentary that was created by two Tibetans. With a desire to know how the Tibetans felt about the Olympics being held in China, they travelled to Tibet, documenting the disappointment of the Tibetans who lived there. Many felt cheated that China was lying to the world, because they were not improving the situation in Tibet. One man said, "The Olympics are supposed to be about peace, and the most recognizable man for peace, the Dalai Lama, is not even allowed to go to the Olympics." Another had shown his pictures of the Dalai Lama hidden behind a cupboard, since the Chinese don't allow them to own pictures of his holiness.
The men who made the film were arrested and their whereabouts are currently unknown. The brother of the filmmaker spoke about his brother with his voice trembling.
Tashi Delek,
Annie E.
About Annie E:
Annie volunteered to help the Tibetan people in India for 6 weeks through the organization 'VOLUNTEER For TIBET'.
While there, she stayed with a Tibetan Family. During the day she taught English to Buddhist Monks and helped the organization start their first online newsletter.
It was an amazing experience for all!